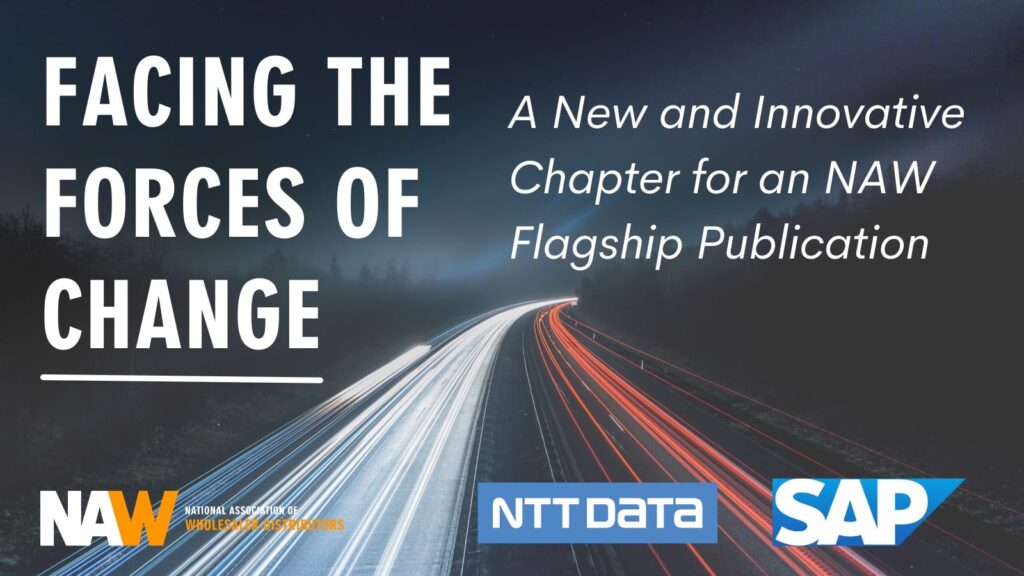 Radical collaborations with business partners may be the key to unlocking business-changing innovation. Insights from a dental industry distributor show us ​​how.
A futuristic dentist office as imagined by Open AI's DALL·E.
Benco Dental is leading the way forward, innovating as a distributor and valued partner, and in this edition, I introduce Benco's story as shared by Chuck Cohen, Managing Director. And I push my work as an NAW Fellow forward. Following the 2023 NAW BusinessOutside Innovation Forum, I wrote about three foundations for distributor-led innovations: future-forward conversations, leaning in to help workers and communities thrive, and breaking through the aspiration gap holding distributors back from building a supply chain worthy of our times. Listening to Cohen, I wonder if a fourth foundation is required, one that helps innovative distributors act as first movers—achieving the most amazing opportunities, earning unprecedented profits, and preventing easy copying by less innovative competitors. Below, I share what I've learned about mission, metrics, and listening to customers, then suggest a way forward through radical collaborations. (Please find my earlier editions here, here, and here.)
Full steam ahead
In "The Long Dry Spell at One of America's Most Innovative Companies," The Wall Street Journal tells the story of 3M's troubles as a top-tier manufacturer leading through an unparalleled commitment to innovation. The article is a must-read for every innovator, especially distributors. It is a tale of caution, pointing to the easy paths that may lead innovators astray. But it also opens a door for distributors to work with manufacturers as innovation partners. This quote caught my attention: "Senior management has deluded themselves into thinking they can pick winners and losers when in reality we need to generate more products so we can get into test markets to see what works," said Robert Asmus, a former 3M healthcare scientist and member of the Carlton Society, the company's highest honor for science and engineering.
If manufacturers like 3M are in trouble, distributors can help. Distributors are delusion-busters who provide practical, customer-savvy, experience-based knowledge. As local businesses embedded in every community, distributors offer easy access to test markets and "feet on the street" to observe what works in the real world, where it matters most. Pushing further, ambitious, go-getting, and forward-looking distributors can bring their own innovations to manufacturers—sharing ideas, sparking conversations, and building an innovation platform for mutual benefit. I know all this is possible because Benco is a 3M distributor working to help drive innovation.
As Cohen explained, Benco's innovation philosophy and strategy follow three disciplines designed to direct investments, push for execution, and strengthen culture: a visionary and actionable mission statement; metrics that reshape how the company is seen by itself and its partners; and a top-down commitment to listening to customers in the places where they work. On mission statements, Cohen explains:
Five years ago, we reworked our mission statement to focus on innovation as our core purpose, the reason that we exist. We've baked innovation into our business model. We aim to drive dentistry forward through innovative solutions and a caring family culture. We are a "dentistry only" distributor, and a big piece of our value proposition is to ensure that we drive the profession forward through the products we sell, how we serve our customers, and how we help dentists do better at what they do. Our new mission statement has made a big impact. It resonates with customers, and it's differentiated us in our market. Our focus on innovation guides our culture and helps us move forward.
On metrics, Cohen advised that traditional distribution metrics work against innovation by focusing people and processes on protecting margins, repeat purchases, and customer relationships. Benco borrowed from 3M to move its business ​​​​in a different direction:
We measure an innovation index by tracking the percentage of sales from products introduced in the previous three years. Our long-term goal is to reach 20 percent, from about 15 percent today. It's a key performance indicator (KPI) for our company, and we will soon report our innovation index for customers, too. Our goal is to go beyond distributing what customers know they need, to introducing new products. Our customers are very interested in innovation; they want to know what's new and different and how they can improve their practice. And it's crucial for vendor relationships, helping us become the partner of choice for launching new products. Our value proposition includes curating new products not in our market yet and figuring out how to bring them to market. Tracking innovation helps us deepen our conversations with existing suppliers and helps us bring on new vendors. Implementing our index was a bit of a fight internally, but it was worth it.
On customers, Cohen recommends Procter & Gamble CEO A.G. Lafley's admonition that focus groups and traditional research methods are not enough to understand customers. He further emphasizes that effective listening requires visiting customers where they live, work, and shop to observe first-hand how they select and use products. Cohen counsels:
​​​​​​​Our philosophy for gathering the voice of customers is that you can only know your customers when you know what your customers are doing in their house, the place where they work. Focus groups don't provide the level of customer insight needed to execute our innovation mission statement. ​​We are committed to co-traveling—defined as working a day with a sales rep or service tech, visiting customers, and interfacing with customers in their environment. We aim for our entire executive leadership team to log a total of 100 co-traveling days annually; each day averages seven customer visits, so that means our leadership team will visit about 700 different dental offices or labs each year. Our commitment filters down from the top: our executive leadership team, listening to customers, asking what's going right in their practice and what isn't; observing our team at work in the customer's office; and bringing back ideas for how we can make their practices better and identify the new products or services that we should be rolling out.
Benco is charging forward, winning the hearts and minds of customers and suppliers, and doing the right things for the future of dentistry. But there are challenges, including the free-rider problem faced by all first movers: Benco bears the costs of developing innovations only for competitors to copy them without incurring similar risks and expenses. Additionally, every distributor innovator is constrained by existing customers' and suppliers' perceptions, the challenge of ​​bolting on new revenue streams, and reaching for margins beyond traditional value chain structures. Benco is doing much more than many distributors I know, but what else can be done?
Radical collaboration
As intermediaries, distributors build competitive advantage by carefully crafting, nurturing, and defending partnerships with customers and suppliers. Distributors must remake existing partnerships—and construct new ones—to unlock cutting-edge opportunities and lock in the gains born of moving first. New partnerships, conceived as radical collaborations, are an underleveraged competency for empowering the most potent and lasting innovation strategies.
Distributors manage today's well-established partnerships through product authorizations, discounts and rebates, customer-service level agreements, and favored pricing. The workings of entirely new partnerships are necessarily unknown today. Yet, we can glimpse the future by envisioning collaborations upstream of day-to-day business, where partners unite to brainstorm and implement ideas. I suggest three imagined alliances to get started:
Co-create unimagined value. Historically, distributors add incremental value to products manufactured by suppliers to offer solutions for known needs. But in the digital age, much more is possible. As hyper-local businesses working side-by-side with customers in every industry, distributors can catalyze change. But to create exponential value, distributors must seek partners that can offer more than products and work together to create unimagined customer value by leveraging data, artificial intelligence, renewable energy, electrification, augmented or virtual reality, robotics and automation, additive manufacturing, and more.
Co-own intellectual property. Effective agreements for joint IP ownership, licensing rights, and revenue-sharing are essential for locking in returns on innovation, providing blueprints for market development, setting prices, sharing costs, and navigating disputes. As catalysts, distributors must master the principles and practices of intellectual property, taking a leadership role in defining partnerships among suppliers, data providers, technologists, artificial intelligence experts, and more—locking in mutual benefits, competitive advantage, and continued collaboration.
Co-develop communities. As the last mile in the global supply chain, innovative distributors are uniquely positioned to harness international development principles to elevate local communities, expanding partnerships beyond suppliers to include local governments, educators, and social impact organizations. Doing so builds on core distributor capabilities and mutual interests in improving skills training, market access, logistics and transportation, economic resilience, and more. Moreover, international development practices create new revenue opportunities for distributors acting as project leaders through funding for infrastructure development, consulting and technical assistance, supply of products and services, and so forth.
Does Benco's focus on mission, metrics, and customer voice provide a pathway for radical innovations by future-focused distributors? Are radical collaborations a critical tool for unlocking exponential gains and protecting profits and practices from easy copying by others? I think so, on both counts—especially if innovators work to co-create value, co-own intellectual property, and co-develop communities.
Please share feedback, ideas, experiences, and questions by commenting below or emailing me at mark.dancer@n4bi.com or Bart Tessel, NAW's Chief Innovation Officer at btessel@naw.org.

---