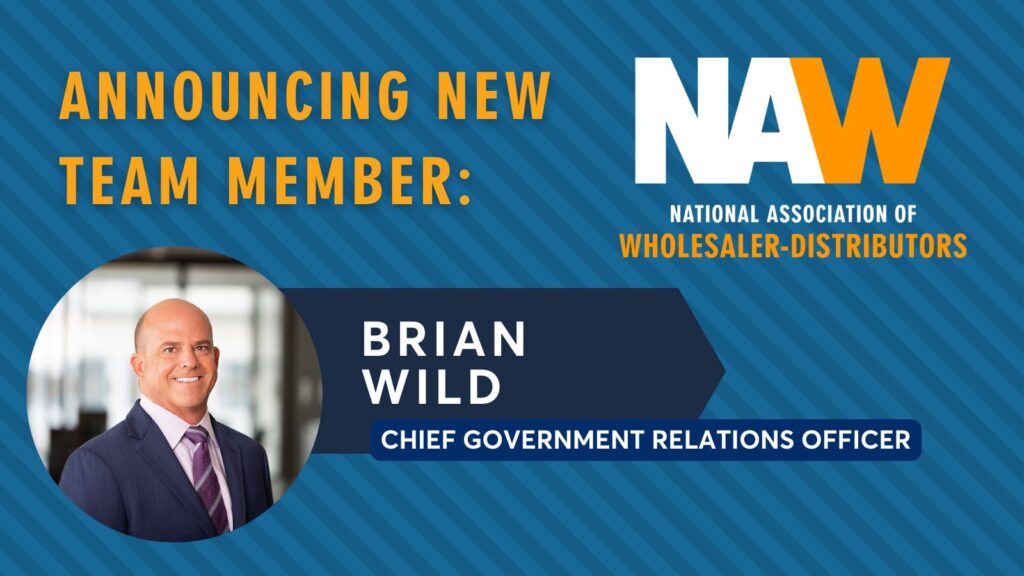 Wild to lead the next chapter of NAW's Government Relations efforts as Jade West retires
Washington, D.C. – The National Association of Wholesaler-Distributors (NAW), which is the voice of the 8.2 trillion-dollar wholesale distribution industry, and employs more than 6 million U.S. workers, announced today that Brian Wild has been hired as NAW's new Chief Government Relations Officer
"I could not be more thrilled to share that NAW has hired Brian Wild as our new Chief Government Relations Officer," said NAW CEO Eric Hoplin. "Brian will bring extensive experience from congressional leadership offices, the White House, and the business world to NAW. As Jade retires this summer, Brian is undoubtedly the best person to lead this next chapter at the helm of our incredible Government Relations team," concluded Hoplin.
"I am excited to be joining the fantastic team at NAW as we continue to secure victories and serve as the voice for the wholesale distribution industry here in Washington," said Brian Wild. "I look forward to meeting and working with the NAW membership, and I wish a happy and well-deserved retirement to Jade West after her decades of service to this vital industry," concluded Wild.
Wild joins NAW from Brownstein Hyatt Farber Schreck where he worked as Policy Director, advising Fortune 500 companies, trade associations, and non-profits before Congress and the White House on a wide range of issues. Wild is known as a "Fire-fighter" in Washington and has a reputation for having a unique ability to get people to come together from across the political spectrum, and build coalitions and relationships.
NAW is one of America's leading trade associations, representing the $8.2 trillion wholesale distribution industry in Washington, D.C. Founded in 1946, NAW is comprised of national, regional, and state employers of all sizes, industry trade associations, partners, and stakeholders spanning all sectors of distribution.
NAW represents a diverse industry that employs more than 6 million workers throughout the United States and accounts for 1/3rd of the U.S. GDP. This unique position allows us to bring together the largest and best-in-class distribution firms to share best practices with their non-competing peers, making every corner of our industry stronger. NAW works proactively, supporting pro-business policies and pro-business candidates, building relationships with political leaders, and sharing the industry message with key audiences and stakeholders, to tell the story of wholesale distribution and underline the value our industry provides.
###
---