---

NAW's 2023 Executive Summit will take place January 31 – February 2, 2023, at the Fairmont Hotel in Washington, DC.
The wholesale distribution industry has seen America through every advancement and inflection point in history. Meeting the moment wherever and whenever we are called to deliver for our nation. We are relentless in our pursuit to show up for our customers and stand at the ready to provide the best and most innovative solutions for every season.
We pioneer the future and meet the new day with a determination to find smarter and bolder ways to do things better. Whatever the next frontier looks like, the wholesale-distribution industry will be there to meet the moment and lead the way.
Join us January 31, 2023 – February 2, 2023, as we bring together top industry leaders and the brightest and the best, to discuss the current landscape of wholesale distribution, what's on the horizon, and how we blaze the trail for the next generation of wholesale distributors.
Tentative Agenda
Tuesday, January 31, 2023
1:00-4:00 PM Optional: NAW Executive Sales Forum
or
1:00-4:00 PM Optional: NAW Executive Innovative Forum
6:30 PM Welcome Reception & Dinner
Wednesday, February 1, 2023
7:30 AM NAW-PAC Breakfast (ticketed event)
8:00 AM Executive Summit Breakfast
9:00 AM Executive Summit General Session
12:00 PM Executive Summit Lunch
1:15 PM Executive Summit General Session
4:00 PM Discussion Roundtables
6:30 PM Reception & Dinner Gala at the National Air & Space Museum
Thursday, February 2, 2023
6:00 AM Optional: Run-Walk on The National Mall
8:00 AM Executive Summit Breakfast and Discussion Roundtables
9:45 AM Executive Summit General Session
12:00 PM Executive Summit Adjourns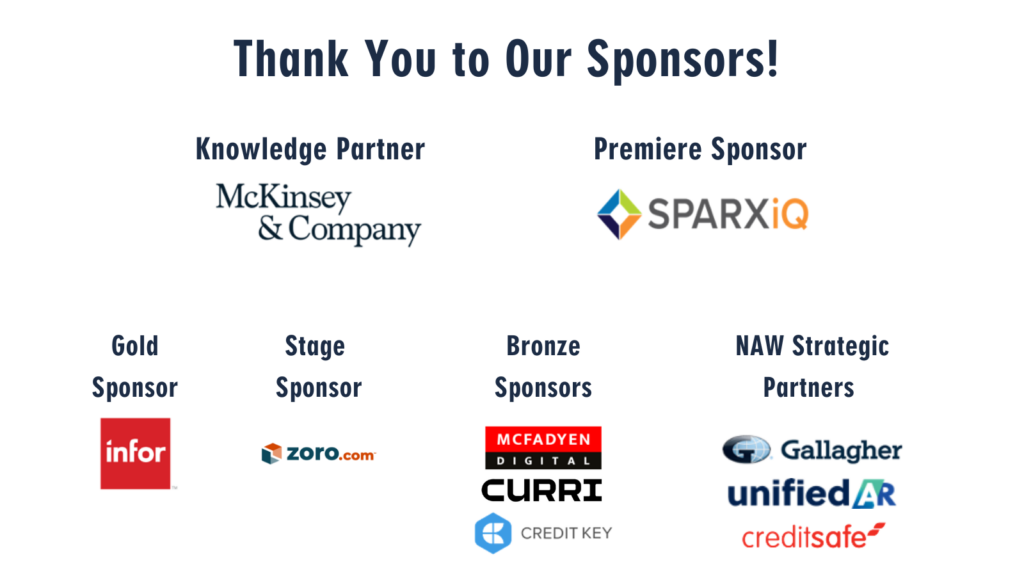 Become a Sponsor of the NAW Executive Summit!
For details, contact Adam Isenberg at NAW at aisenberg@naw.org
2022 Executive Summit Recap
The NAW Executive Summit was back in-person in 2022, and it was bigger and better than ever!
We heard from Robert O'Neill at our inaugural Distributor Awards Dinner. Author of the New York Times best-selling memoir, The Operator: Firing the Shots That Killed Osama bin Laden and My Years as a SEAL Team Warrior, Robert fired up our passion as he shared his story and the lessons you can use as a business leader.
Additionally, the Summit schedule was packed with content focused on critical areas that every key decision maker at your business must consider when preparing for distribution today and in the future, including the Annual Economic Update and a review of the political landscape with top pundits and our Government Relations team.
Lastly, crowd favorite discussion roundtables were back in-person to help members gain actionable tips and insights from peers, helping to make a huge impact on key functional areas in 2022!
---