Take A Look At Some of Our Confirmed Speakers!
NAW's 2023 Executive Summit will take place January 31 – February 2, 2023, at the Fairmont Hotel in Washington, DC.
The wholesale distribution industry has seen America through every advancement and inflection point in history. Meeting the moment wherever and whenever we are called to deliver for our nation. We are relentless in our pursuit to show up for our customers and stand at the ready to provide the best and most innovative solutions for every season.
We pioneer the future and meet the new day with a determination to find smarter and bolder ways to do things better. Whatever the next frontier looks like, the wholesale-distribution industry will be there to meet the moment and lead the way.
Join us January 31, 2023 – February 2, 2023, as we bring together top industry leaders and the brightest and the best, to discuss the current landscape of wholesale distribution, what's on the horizon, and how we blaze the trail for the next generation of wholesale distributors.
Confirmed Speakers
Tentative Agenda
Day 1 – Tuesday, January 31, 2023
1:00-4:00 PM: NAW Executive Sales Forum – Hosted by SPARXiQ
This session explores the best practices and playbooks that leading distributors are using to improve sales efficiency and effectiveness and enable long-term profitable growth.
or
1:00-4:00 PM: NAW Executive Innovation Forum – Hosted by McKinsey & Co.
This session aims to connect innovators and industry executives by examining insights and trends from the distribution industry through a lens of technology and digital tools.
6:00 PM: 2023 NAW Executive Welcome Reception
Join North America's leading distribution executives, thought leaders, and technologists for the official kickoff reception of the 2023 NAW Executive Summit! Hosted by NAW President and CEO Eric Hoplin at the Fairmont, Washington, D.C., the evening will feature heavy hors d'oeuvres, a premium open bar, and great conversations with the leading minds in our industry.
* Select Billion Dollar Presidents & CEOs will have an exclusive dinner following the welcome reception. This event is by invitation only.
* Members of the NAW Rising Leaders program are invited to a special dinner and a night out on the town following the welcome reception.
Day 2 – Wednesday, February 1, 2023
7:30 AM: NAW-PAC Breakfast (ticketed event)
The NAW Political Action Committee (NAW-PAC), was created to affect the composition of Congress by helping elect pro-business candidates supportive of the wholesale distribution industry.
8:00 AM: Executive Summit Networking Breakfast
Connect with some of the brightest minds in our industry over breakfast.
9:00 AM-12:15 PM: General Sessions:
Welcome Remarks; Eric Hoplin, NAW President and CEO
Leadership and Happiness; Arthur Brooks
According to research, to be successful in life, one should understand happiness and manage it — our own and others. There is an enormous opportunity for businesses to improve happiness practices internally, thus raising workplace engagement, facilitating recruitment, and increasing retention and productivity. Indeed, companies can establish a culture of meaning, purpose, and lift satisfaction-and can thus prosper in highly-competitive labor markets where culture and quality of life are so critical.
10:15-10:30 AM: Break
Profitable Growth Strategies from Industry Leaders
Forward-looking distributors are innovating their commercial strategies and looking to grow faster than their peers, whether organically or through acquisition. In this session, a panel of executives from several industry-leading distributors will discuss their strategies for achieving profitable growth in today's complex economy.
11:15-11:30 AM: Break
Fireside Chat; Secretary Mike Pompeo and NAW CEO Eric Hoplin
Secretary Pompeo will join NAW CEO Eric Hoplin for a fireside chat to discuss global and domestic challenges impacting the distribution industry.
12:15-1:15 PM: Executive Summit Networking Lunch
1:15-1:30 AM: Break
1:30-3:50 PM: General Sessions:
NAW CEO Panel; Speakers To Be Announced
Hear from an all-star panel of CEOs from some of the largest, most successful firms in America, to discuss top-of-mind challenges heading into 2023 and their strategies for tackling them.
Topics include: Acquiring talent, managing through supply chain shortages, technology investment, and navigating a complex regulatory environment.
Marketing and Developing Your Company's Brand
Innovations and Insights from the NAW Institute
Hear about the state of the industry from scholars, researchers, and industry big thinkers, who will dive into important research topics related to the distribution industry,and discuss the current state of wholesale-distribution and what lies ahead.
4:00 PM: Executive Discussion Roundtables
Gather real-time feedback on specific business challenges facing you and your organization, from some of the brightest minds in our industry.
In this session, distribution and manufacturing executives will convene in small groups of non-competitors operating at comparable scale, for open dialogue and strategic consultation.
7:00 PM: 2023 NAW Executive Dinner Gala at the National Air & Space Museum
Be our guest at the premier dinner event for the North American distribution industry! Hosted at the newly-renovated National Air & Space museum on the National Mall, this event will celebrate our industry's resilience and success against a backdrop of unprecedented challenges and look ahead to the future with the help of former ISS Commander, Chris Hadfield.
Hear from Hadfield whose daily routine was to prepare for and solve worse-case scenarios, from both a team and leadership perspective. Using insights from an extensive career in the astronaut corps, we will discuss the necessity for both preparation and reaction to complex change.
Day 3 – Thursday, February 2, 2023
6:00 AM: 2023 NAW 5K Run/1 Mile Walk on the National Mall
Lace-up your shoes and join a brave group of runners and walkers for a chilly morning journey around one of the most beautiful and iconic areas of Washington, D.C. Busses will take participants to the Washington Monument, with the course winding around the WWII memorial and Lincoln Memorial with plenty of sights to see along the way.
8:00 AM: Executive Summit Breakfast and Discussion Roundtables
Gather real-time feedback on specific business challenges facing you and your organization, from some of the brightest minds in our industry.
9:45 AM-10:00 AM: Official NAW Business
10:00 AM-12:00 PM: General Sessions:
Supply Chains in 2023 – Things to Watch; Willy Shih
State of Play in Washington
NAW 2022-23 Economic Update; Alan Beaulieu, ITR Economics
Analyze the short and long-term economic forecasts of the U.S. and beyond, while discussing the direct impact on the distribution industry.
Closing Remarks; Eric Hoplin, NAW
12:00 PM: Executive Summit Adjourns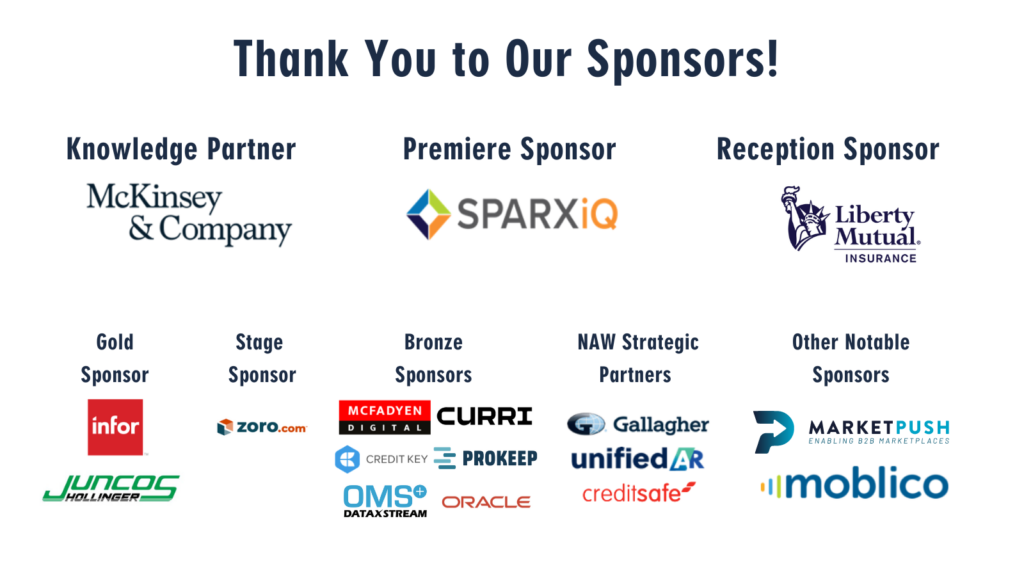 Become a Sponsor of the NAW Executive Summit!
For details, contact Adam Isenberg at NAW at aisenberg@naw.org and view available opportunities here.
2022 Executive Summit Recap
The NAW Executive Summit was back in-person in 2022, and it was bigger and better than ever!
We heard from Robert O'Neill at our inaugural Distributor Awards Dinner. Author of the New York Times best-selling memoir, The Operator: Firing the Shots That Killed Osama bin Laden and My Years as a SEAL Team Warrior, Robert fired up our passion as he shared his story and the lessons you can use as a business leader.
Additionally, the Summit schedule was packed with content focused on critical areas that every key decision maker at your business must consider when preparing for distribution today and in the future, including the Annual Economic Update and a review of the political landscape with top pundits and our Government Relations team.
Lastly, crowd favorite discussion roundtables were back in-person to help members gain actionable tips and insights from peers, helping to make a huge impact on key functional areas in 2022!