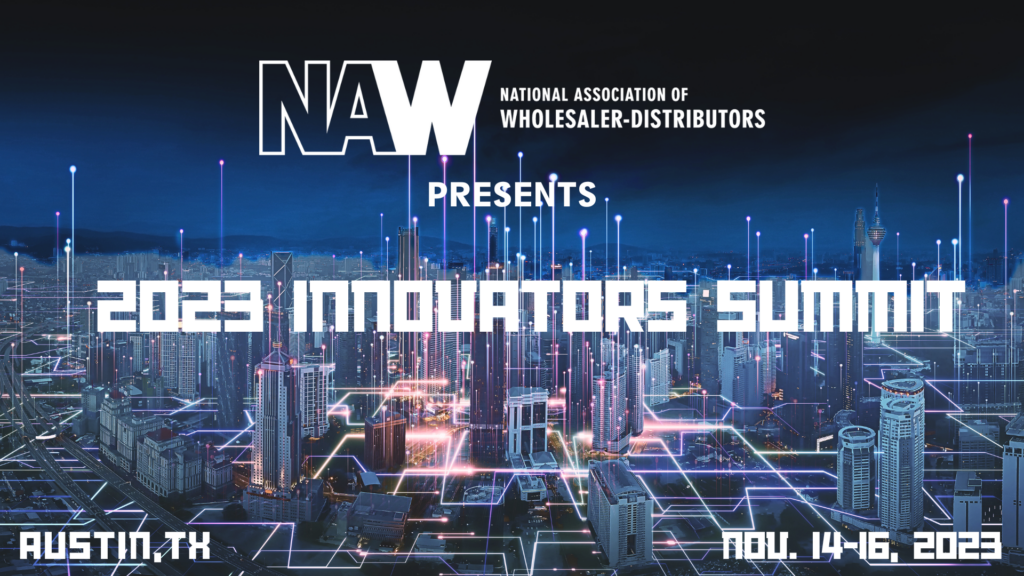 Attend NAW's second annual Innovators Summit, powered by Applico. An exclusive event for wholesale distribution executives, innovators, and tech founders. 
November 14- 16, 2023 | Austin, Texas | Omni Austin Hotel
The wholesale distribution sector is evolving rapidly, with technology playing a crucial role in shaping its future. Attending the Innovators Summit lets you stay updated with the latest industry developments and remain ahead of your competitors. By being aware of emerging trends and disruptive technologies, you can proactively adapt your business strategies, identify new revenue streams, and gain a competitive edge in the market.
After a successful inaugural Innovators Summit in 2022, NAW has teamed up with Applico again to bring Innovation in Wholesale Distribution exclusively to our members on their journey to innovate, evolve, and adapt.
We will bring you thought leaders, practitioners, and technology providers who share innovations in marketplaces, operations, and supply chain technology, to address changing customer buying behaviors and evolving expectations in B2B commerce. We've curated a list of B2B tech companies whose businesses will help distributors maintain and increase their competitive edge. Along with the main program, there are opportunities for one-on-one discover sessions between distributors and the tech companies.
We will showcase examples of leading distributors who have embraced innovative digital tools and their best-in-class providers. We will challenge you to rethink the status quo and consider what is possible.
Why Attend?
Network with leading industry executives, tech startups, innovators, and investors
Explore cutting-edge tools and technologies that streamline distribution processes, reduce costs, and increase productivity
Discuss relevant innovations and be inspired to implement 'what's next' from inside and beyond our industry
When and Where?
The event begins Tuesday, November 14, 2023, at 3 p.m. CT, ending Thursday, November 16, 2023, ending at 1 p.m. CT and will be held in Austin, Texas, at the Omni Austin Hotel Downtown, 700 San Jacinto, E 8th St, Austin, TX 78701.
We have reserved a block of rooms at the event hotel. Be sure to book before the room block deadline on October 24 as the hotel will sell out!
Who Should Attend?
The NAW Innovators Summit is for wholesale distributors with an annual sales revenue of $100 million+
A Few of the Tech Innovators at the Event
Introducing the initial list of innovative tech startups presenting for 2023. These cutting-edge companies are bridging the tech divide in B2B by solving core challenges for distribution and redefining industry benchmarks. And you get direct access.
Kojo – FEATURED SPEAKER
The leading multi-trade software for contractors, provides an all-in-one solution for contractors to plan, track, receive, and pay for their materials, and integrates digital purchasing via distribution.
Balance – Providing distributors with a way to pay how and when they want, while getting the funds instantly and easily as card payments. Limiting days outstanding and providing distribution firms with strategies that directly impact their bottom lines is where Balance shines.
Bringg – Bringg's delivery platform facilitates 15 million monthly deliveries across 50+ countries around the world to connect and digitize your last mile ecosystem.
Conexiom – Automate sales order entry. Conexiom frees up 50% of your sales team's time and prevents errors from manual order entry.
Curri – Last-mile logistics services for construction and industrial supplies helping distributors save on operational costs and convert more sales.
Flintfox – As distributors continue to look at new and innovative ways to increase revenue and grow customer and supplier share of wallet, Flintfox has a 21st century approach on omnichannel pricing, rebate management, and technology integration to help distributors add real dollars to their bottomline.
inRiver – Built to handle the complexity of distribution, inRiver creates a single source of truth that consolidates product data across all workflows and streamlines omnichannel commerce
Loop – Save 4% on outsourced freight. Founded by Uber Freight's head of data science, Loop uses AI and machine learning to audit your freight invoices and eliminate errors.
OneRail – Automate last mile delivery. OneRail saves you 16 minutes per order with the one platform to manage all your last-mile delivery needs at 100% end-to-end network visibility.
Nautical Commerce – Multi-vendor marketplace platform that enables B2B businesses to create an online marketplace.
Prokeep – Customer experience management software for wholesale distributors that centralizes communication, payments and customer data.
Proton.ai – Sales productivity platform built for distributors, by distributors, that breaks down data silos and provides AI-enabled sales insights for your commercial teams.
Zoro – The MRO marketplace that distributors sell on, offering millions of products in an endless aisle experience.
Email events@naw.org for Early Bird and Past Attendee special pricing!
Past Year Attendees
Take a look at the companies who attended previously, and we think you'll agree, your name belongs here.
Alex Lee Inc
Boeing Distribution Services Inc
Ellsworth Adhesives Specialty Chemical Distribution
G L T Products & Speedline Crp
Gordon Food Service
Ryerson
Specialty Products & Insul
ABC Supply Co Inc
ADI
Berlin Packaging
BlueLinx
Breakthru Beverage Illinois
Chattanooga Shooting Supplies Inc
City Electric Supply
COE Distributing
Core & Main
Distribution Solutions Group
Dot Foods Inc
DW Distribution Inc
Envoy Solutions
First Supply LLC
Grainger Inc
Graybar Electric Co Inc
IEWCISCO Industries LLC
Kimball Midwest
Millcraft Paper Company
MSC Industrial Supply Co
ORS Medco
Palmer Donavin Manufacturing
Parksite Inc
Specialty Building Products
Summit Electric Supply Co Inc
Turtle & Hughes Inc
U S Electrical Services LLC
Winsupply Inc
Zoro
View last year's agenda here.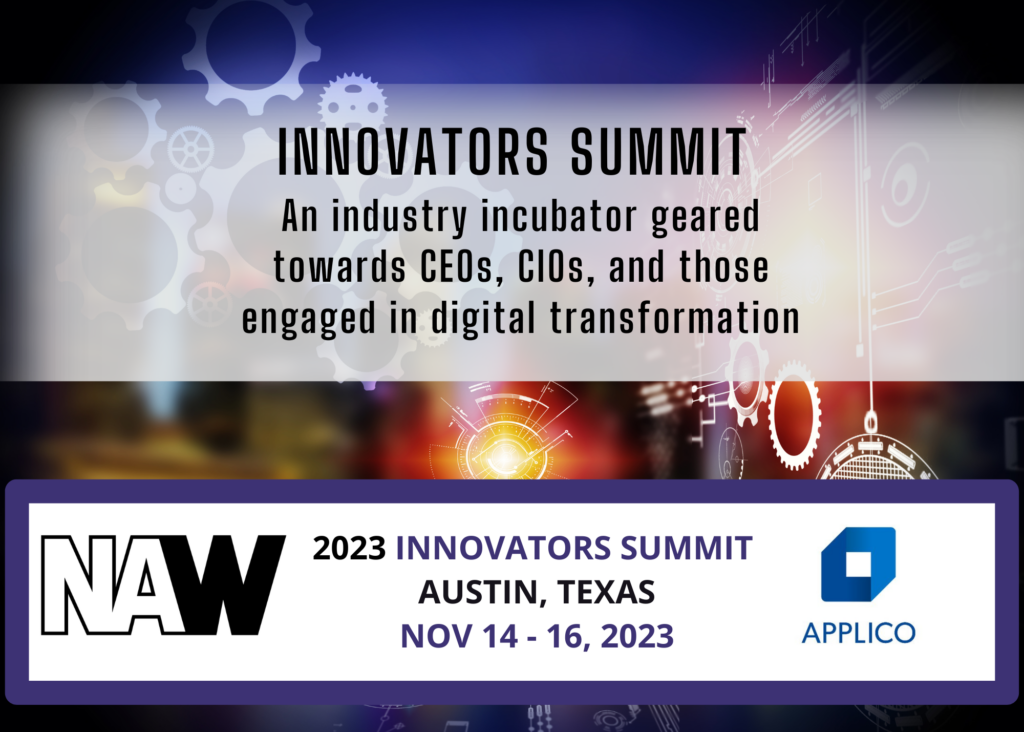 2022 Testimonial
"The Innovators Summit gave me two of the most intellectually stimulating days I've had in years. This program represented a unique opportunity to complex problem-solving. Importantly, it helped moved the distributor mindset from being only responsive to suppliers and customers to an orientation with a responsibility to lead the supply chain in a more productive and creative direction. It is time for distributors to innovate and guide suppliers and customers to a better place in the distribution industry."

Mike DeCata, former President and CEO, Lawson Products