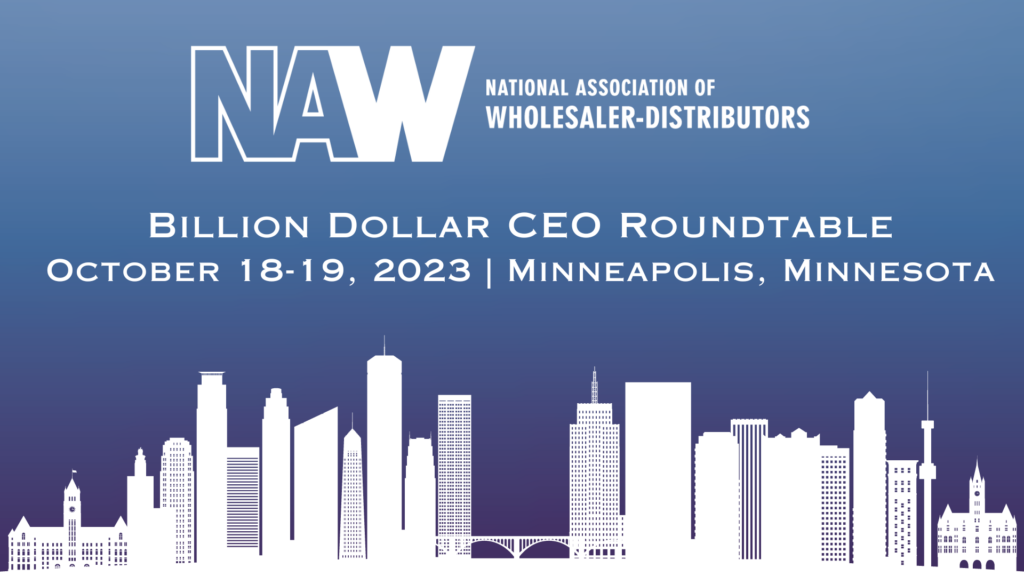 The NAW Billion Dollar Roundtables are an exclusive community of thought leaders from Billion Dollar distribution enterprises who congregate to network with non-competing peers in multiple lines of trade on key issues. The companies invited into this community are from distribution firms $1 Billion plus in annual sales.
2023 Fall – Billion Dollar CEO Roundtable
October 18-19, 2023 | Minneapolis, Minnesota
Explore The Topics
2023 Topic The AI Revolution: Navigating the Transformative Power and Implications of Artificial Intelligence: Amidst the disruptive wave of artificial intelligence, wholesaler-distributors must strategically navigate the integration of AI technologies to optimize supply chains, streamline operations, and enhance customer experiences. Balancing these innovations with the preservation of organizational culture, employee engagement, and ethical considerations becomes pivotal as we explore new frontiers.
2023 Topic Global Dynamics: Exploring the Shifting Landscape of International Economy and World Order: Wholesaler-distributors operate in an increasingly interconnected world where understanding the seismic shifts in international economies and the evolving contours of the global order is paramount. Navigating this dynamic landscape demands a keen understanding of emerging markets, regulatory intricacies, and the interplay of global forces, as wholesale distributors thrive amidst foreseeable disruptions and unforeseen geopolitical outliers.
2023 Topic Data-Driven Insights: Unleashing the Power of Analytics for Business Transformation: Embracing the potential of advanced analytics, wholesale distribution executives have the opportunity to revolutionize their businesses by harnessing actionable insights from vast datasets. This transformative journey involves leveraging analytics to optimize inventory management, enhance demand forecasting, and drive informed decision-making, ultimately propelling the distribution sector into a new era of efficiency and profitability.
2023 Topic Unlocking the Potential: Strategies for Motivating and Engaging the Modern Workforce: Unveil dynamic strategies for motivating, engaging, and retaining employees, ensuring heightened productivity and fulfillment within today's professional landscape.
When and Where?
The event begins Wednesday, Oct 18, 2023, at 2 p.m. CT, ending Thursday, November 19, 2023, ending at 2 p.m. CT and will be held in Minneapolis, Minnesota, at the InterContinental Minneapolis – St. Paul Airport. We have reserved a block of rooms at the event hotel. Be sure to book before the room block deadline of September 26 as the hotel will sell out!
Hear What Others Are Saying
"Very insightful – Great to hear how others navigate their businesses."
"Excellent networking"
"The NAW Billion Dollar CEO Roundtable is an excellent way to build relationships and discuss the topics that we don't talk about every day."