and Prevent Economic and Supply Chain Catastrophe Washington, DC – The National Association of Wholesaler-Distributors (NAW), which is the voice of the $8.1 trillion wholesale-distribution industry and employs almost 6 million U.S. workers, is calling on Congress this week to take immediate action to prevent an impending U.S. rail strike NAW joined over 400 members of the
and Prevent Economic and Supply Chain Catastrophe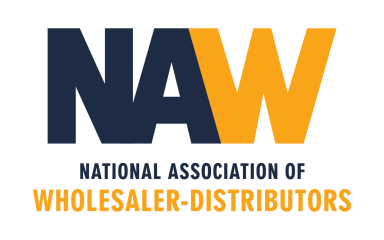 Washington, DC – The National Association of Wholesaler-Distributors (NAW), which is the voice of the $8.1 trillion wholesale-distribution industry and employs almost 6 million U.S. workers, is calling on Congress this week to take immediate action to prevent an impending U.S. rail strike
NAW joined over 400 members of the business community in a joint letter on Monday and issued a direct letter to Congressional leadership today, outlining the traumatic outcome of such a strike and urging swift legislative action by Congress to intervene in the stalled negotiations. The following statement has been issued by NAW Vice President of Government Relations Seth Waugh:
"Delivering for America is what our industry does best. A strike of this nature will bring the free flow of critical goods and services in America to a halt, hamstring an already fragile supply chain during a time of continued economic uncertainty, and lead the country down an untenable path. President Joe Biden, the self-proclaimed "most pro-union President in history," worked directly with the rail worker unions to come to an agreement in September that would have prevented a rail strike. Now, several of those Union Bosses are attempting to hold America's economy hostage by beckoning a crisis that is 100% preventable." said NAW Vice President of Government Relations, Seth Waugh.
"Should Congress fail to prevent a major rail strike, it would cost the United States economy at least $2 billion daily. Other estimates predict that should a major rail strike last one month, it would lead to at least a 1% decline in our nation's GDP. American Main Street businesses cannot absorb these operational hits as they are facing rising inflation, labor shortages, and a supply chain still under tremendous pressure.
"If this is a foreshadowing of 2023 policies, it does not bode well for next year's looming package handler and driver negotiations. Wholesaler-distributors are already being impacted by products being diverted from rail to other modes of transportation; much more pressure will cause the supply chain to buckle and permanently set America back economically and operationally. This course of action by today's Union leaders is irresponsible and opportunistic during fraught economic times," Waugh concluded.
NAW is one of America's leading trade associations, representing the $ 8.1 trillion wholesale distribution industry. Founded in 1946, NAW is comprised of national, regional, and state employers of all sizes, industry trade associations, partners, and stakeholders spanning all sectors of distribution. Our industry employs more than 5 million workers throughout the United States and accounts for 1/3 of the U.S. GDP. There are 35,000 wholesale distribution companies that operate nearly 150,000 places of business across North America, including all 50 states.
NAW's mission is to deliver world-class programs and services, designed to help the most dynamic companies in wholesale distribution succeed. Our programming is tailored for the CEOs, senior executives, and rising leaders at our member companies and associations. Members engage with NAW through our offerings in – Thought Leadership, Networking, Executive Education, Benchmarking/Research, Shared Resourcing, Partnerships, Government Relations, and Public Affairs.
MEDIA CONTACT:
Liz Shrum
202-733-0606
lshrum@naw.org


###
---