By: Mike Kunkle (SPARXiQ – VP, Sales Effectiveness Services)
In July 2023, I presented a webinar in collaboration with Distribution Strategy Group about "The State of Sales in Wholesale Distribution." During this presentation, I conducted research to evaluate the sales competencies within wholesale distribution in comparison to other industries. The results were both fascinating and concerning.
In this article, I'll share some data points highlighting the strengths and weaknesses within distribution selling and offer recommendations on how to close gaps that might be holding your team back.
The Data Background
SPARXiQ partners with Objective Management Group (OMG), a company with over 30 years of experience in sales force evaluations and hiring assessments for over 2 million people in sales, sales management, and sales leadership roles.
OMG assesses 21 core sales competencies. This includes 3 groupings:
"The Will to Sell" (attributes like drive or grit, motivation, commitment, coachability, and others)
"Sales DNA" (mindsets and beliefs that support or hinder sales effectiveness)
Tactical selling competencies (such as hunting, qualifying, reaching decision makers, relationship building, consultative selling, selling value, and others).
In this article, we'll focus on five key selling competencies:
Hunting (prospecting/new business development)
Reaching Decision Makers
Selling Value
Sales Process (managing a milestone-centric process)
Relationship Building
The data on "The Will to Sell" and "Sales DNA" show no significant variations. In fact, it revealed that distribution sales reps' inherent qualities closely align with their counterparts in the broader sales profession, indicating similar drive, motivation, and beliefs about selling.
However, these critical selling competencies above revealed some areas where distribution sellers are lagging considerably. They also represent competencies that are proven to be impactful when they're done well.
Let's look at the data.
Selling Competencies: Distribution vs. the Broader Market
The data presented here comes from North America, in just the past ten years, because that's more relevant than going back for the full 30 years.
On the chart below, the gray bars on the left represent data from candidates and employees in all verticals, which includes wholesale distribution. There are over 463,000 evaluations in this data set, ensuring its validity. The colored bars on the right show data exclusively from employees in distribution companies, consisting of 10,696 evaluations, also representing a significant and valid data set. The percentages represent the proportion of sellers assessed as "strong" in each competency.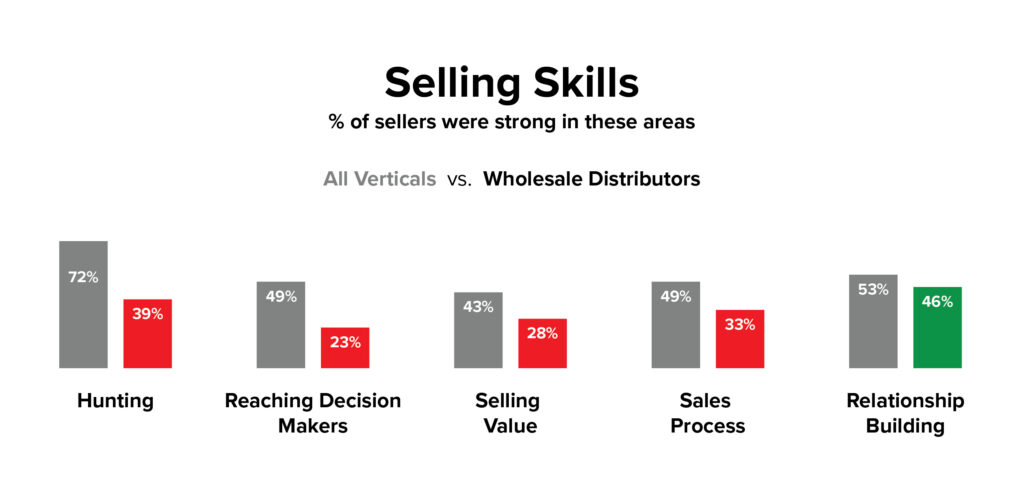 As you compare the data for these five sales competencies, you'll see that distribution sellers fared well only in Relationship Building, with 46% of employees scoring strong, compared to 53% overall. A small gap, all in all. This is not terribly surprising; many senior executives in distribution have shared with us anecdotally that their sales teams are great at building and managing customer relationships.
In Hunting (aka new business development or new account acquisition), Reaching Decision Makers, Selling Value, and managing a Sales Process, our sellers lagged significantly. While Relationship Building sees distribution reps lagging by 15%, the others range from 53% to 113%.
The Good News
The good news comes in two parts:
First, we compared much more favorably in the assessment of mindsets and beliefs (aka Will to Sell). Here is an example of a subset of these competencies: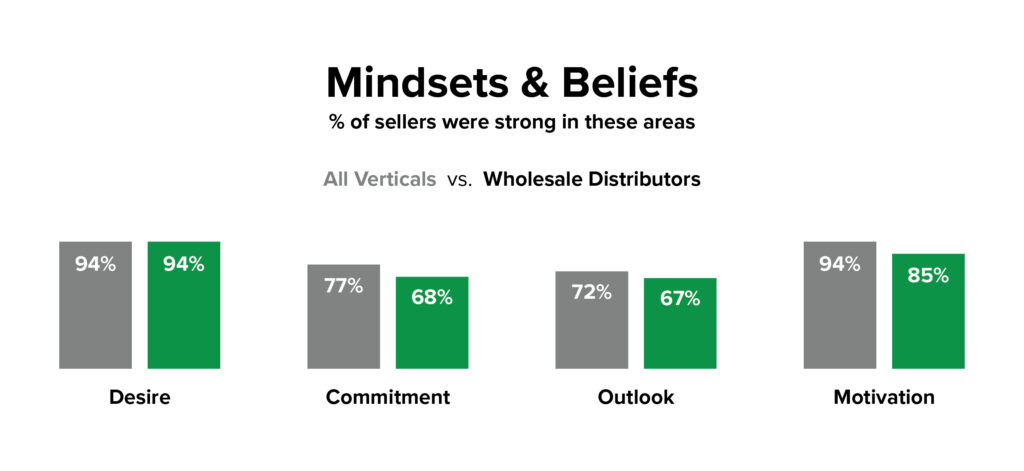 The other verticals came out slightly ahead on the Will to Sell and Sales DNA competencies, but not significantly. This is a great sign because those factors are mostly inherent in the individual. Yes, they can be trained (to a degree), coached and counseled, but changing these factors is a lot like the old joke about how many psychologists it takes to change a lightbulb. The answer is, "Just one, but the lightbulb must want to change!"
Why This Matters
In addition to distributor reps having healthy drive, motivation, and mindsets, the second good news story is that the identified sales competency gaps are trainable. While mindsets and beliefs influence learning and executing the sales competencies, the skills themselves can be taught and coached to mastery.
The average age of many top performing salespeople in distribution (and their long-term buyers and customers) was 46 years old in 2021 (Bureau of Labor Statistics).
Distribution is now facing a demographic shift, with many top performing salespeople nearing retirement. As the "changing of the guard" occurs, Newer generations bring different buying behaviors and lack already built and established relationships. It's clear that distribution is sitting on a demographic cliff and facing even more change in the future than the recent disruptions. Acting now and investing in talent development and other sales effectiveness foundations is the only way to future-proof your sales force and your company.
Closing Competency Gaps
Numerous distributors have recognized that it's time to shift from a freeform selling approach to a more formal sales process and methodology. The process is the stages a sale moves through, and the methodology is how your sellers sell, to guide buyers through the process to a successful conclusion.
Aligned processes and methodologies can be mastered through training and coaching. This provides a common language, a set of competencies that can be assessed, and allows you to establish a cadence of continuous improvement in your sales force.
Multiple sales research studies have taught us that when there are high levels of adoption of a formal sales process and sales methodology (75% or greater), there is a significant lift in revenue plan attainment, quota attainment for individual sellers, and win rates.
An effective sales methodology covers the entire customer lifecycle, encompassing these key competencies:
Hunting
Reaching Decision Makers
Selling Value
Sales Process
Relationship Building
Modern methodologies should also be:
Buyer centric: operating in your buyers' best interests and to meet their high expectations for sales professionals
Consultative: bringing insights and expertise to the table, able to diagnose a problem and recommend solutions to solve the problem
Outcome oriented: understanding the current and desired future states, ensuring the ability to deliver them
Choosing and aligning on a methodology is only half the battle. You also need to implement it in such a way to foster learning and retention, change behaviors, gain adoption, and continuously move toward mastery.
This level of talent development and change management has simply not been part of the leadership equation of the past in wholesale distribution. Now, it is time to act.
Modern Sales Foundations: The Future of Distribution Sales
Learn more about Modern Sales Foundations. The award-winning sales training program provides a full-cycle sales methodology that helps B2B sales teams like yours sell more effectively.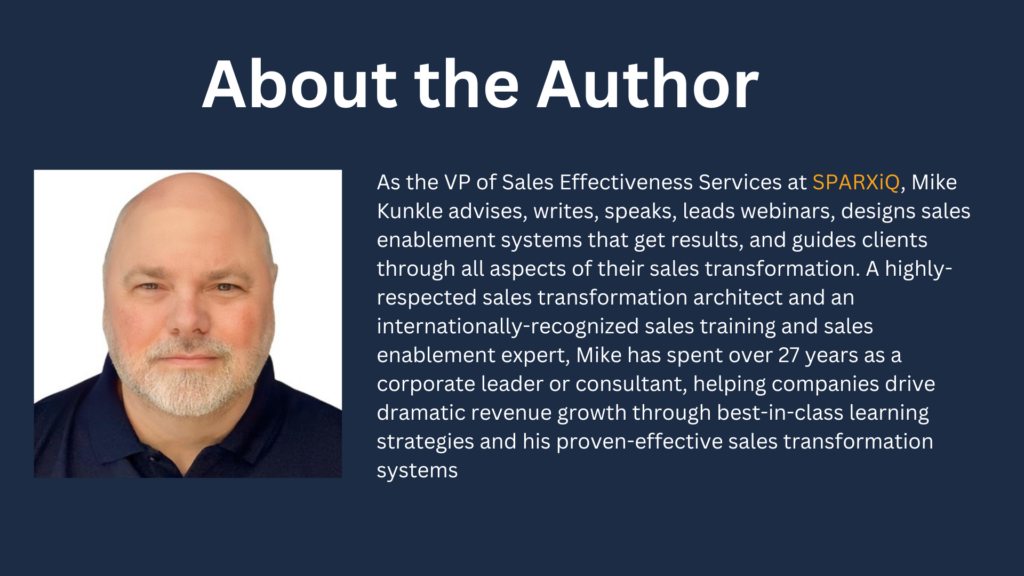 ---