---
NAW CEO Eric Hoplin Announces New & Innovative Chapter for NAW Flagship Publication: Facing the Forces of Change
October 27, 2022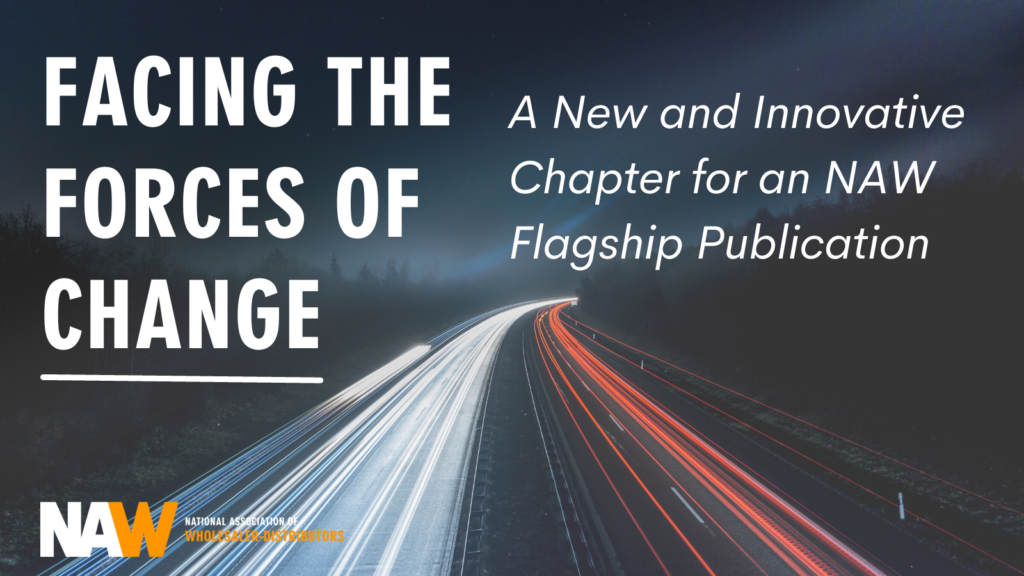 NAW digital content series takes a fresh look at what innovation means for distributors
By: Eric Hoplin, NAW CEO
Distributors are on the move, leaning in, innovating, and reinventing what it means to be an intermediary in the digital age. NAW can help.
I am very excited to announce our work on a new and exciting Facing the Forces of Change® initiative. We are not writing another book or publishing a report. Instead, we will work with a team of distributor innovators to explore new ideas and create actionable foresight, strategies, and plans for all distributors. We will interview business and innovation leaders from outside distribution and within, looking for insights, experiences, facts, and stories. We will share our findings as we go through blog posts, live chats, and social media. Our goal is to move beyond publishing reports to reimagine Facing the Forces of Change as a platform for helping all distributors with a continual stream of timely and actionable information.
As we start, we have established two areas of inquiry, both subject to refinement as we discover what is most unexpected, achievable, and helpful for enabling distributor actions and investments:
What does innovation mean for distributors?
Distributors are digitally transforming and investing in new capabilities executed through roles and processes. For many distributors, innovation is pursuing new customer experiences and outcomes. But to what end? Are distributors merely keeping up with change, reacting to events? Or, can every distributor confirm its purpose, set goals, and move forward? For distributors, innovating may be about redefining roles as a new kind of intermediary in the digital age, one that can lead, compete, and prosper. But whatever path is taken, every distributor's innovations redefine their organization's culture, its way of working as a business, serving customers, and collaborating with suppliers.
How can distributors help customers innovate?
One of the most profound findings in Innovate to Dominate, the twelfth edition in the Facing the Forces of Change series, is that the most potent innovations flow from helping customers innovate in their business. Like every business, customers in every sector are responding to unknowns, digitally transforming and seeking to survive and thrive. Distributors can help not just by delivering modern products but by leaning in and offering distribution's knowledge, experiences, financing, and connections. By assisting customers in innovating, distributors—and all of distribution—can become a force for change and play a consequential role in helping our society and economy keep pace with global and local challenges and opportunities.
Combined, these two goals address fundamental issues for all distributors in our rapidly changing markets — how can we innovate our businesses, and what benefits and returns do we gain? We have laid out a timeline that will last more than a year, and we expect many twists and turns along the way. We ask that our team members act in a curious, thoughtful, and driven way to redefine what it means to be a distributor in the digital age, keeping what works today and adding new resources, capabilities, and tools. Every journey begins with its first step, but we believe that our journey of innovation, for our team and our industry, begins with adopting a new mindset.
To help kick start our work, please watch for posts here on the NAW Distributing Ideas blog addressing three crucial discussions, all a foundation for our work:
Purpose
Every distributor's innovations must be driven not by the implementation of best practices available for all but by pursuing a motivating and guiding purpose that resonates with their customers, suppliers, communities, and employees.
Storytelling
Storytelling is a strategic skill for distributors. As we innovate, we must tell our stories to build awareness, report progress, and build a shared commitment. As we tell stories, we also engage our people, point them in the right direction, and reveal the benefits of progress.
Change
No single distributor can drive industry change by itself. Instead, change must come from a robust exploration and debate of ideas, individual actions by people, teams, and companies, and enabling efforts by institutions, including associations, academia, government, and more. As a leading institution for all distributors, NAW is stepping up.
This new Facing the Forces of Change initiative is led by Bart Tessel and Mark Dancer. Bart is NAW's Chief Innovation Officer where he oversees NAW's Innovation and Member Programs department and the Institute for Distribution Excellence.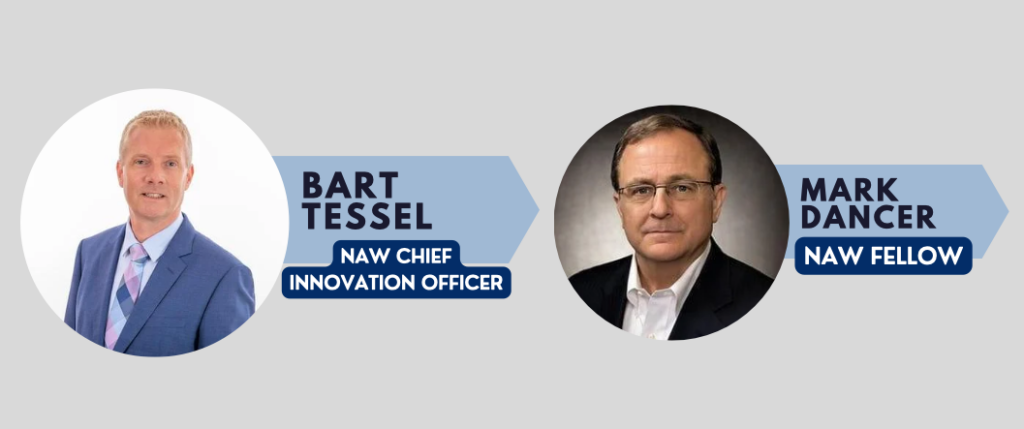 In his role Bart facilitates the exchange of ideas amongst fast-moving, forward-thinking creative talent from all corners of the distribution industry and beyond. Mark is a NAW Fellow and distribution futurist, focused on helping distributors develop actionable foresight e and lead as innovators. Mark is the author of several NAW publications and shares weekly explorations about the future of distribution in his newsletter, Mark Dancer on Innovating B2B. Bart and Mark bring a wealth of experience, insights, and drive. I encourage you to reach out to them at any time by leaving your comments below or by email at btessel@naw.org or mark.dancer@n4bi.com.
The Moonshot for our Times
In many ways, our new Facing the Forces of Change initiative is a moonshot — a project that aims for the stars and achieves progress through collective action, risk sharing, and investments. We are following a North Star, attempting to create an innovation discipline that is "by and for" distributors, one that stands up to disintermediation and disruption, and that is worthy of our industry as a $7 trillion sector of our economy. We have energy, commitment, and a plan — enough to get going, move forward, and work with all members. Our work team's voluntary involvement will help judge our progress and the conversations we will have with all members through social media, virtual events, blog posts, and ad hoc discussions as we bump into each other at events, customers, and suppliers.
Facing the Forces of Change is a powerful brand long focused on building foresight for the future of distribution and helping distributors get there. Our new work is intended to help make Facing the Forces of Change a platform, working for the betterment of our industry and members.
Do you have suggestions? Are you innovating? Can you share your stories? What are your ideas? Please share your comments below or reach me at eh@naw.org.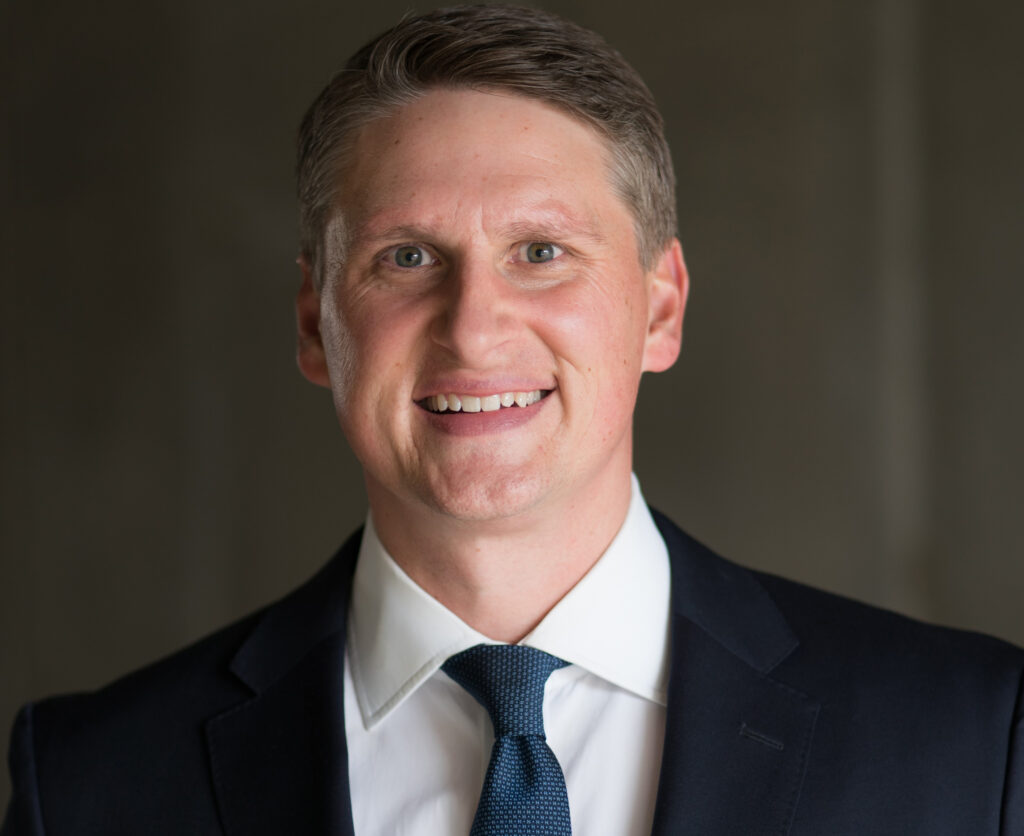 About the Author
Eric Hoplin- NAW President & CEO
Eric Hoplin is President and CEO of the National Association of Wholesaler-Distributors (NAW), representing 30,000 companies that account for one-third of the American economy, by supplying businesses with the products they need to serve their customers in nearly every sector of commerce. Learn more about Eric here.
Thank You to Our Sponsors
---