By: David S. Bauders, CEO SPARXiQ
At a recent NAW CEO Roundtable panel, I and other experts were asked what one thing companies should focus on in the next year to bolster their businesses against the likelihood of a recession and rampant inflation. My answer was simple: launch the sales transformation journey.
At a superficial level, sales transformation needs to address looming economic challenges of inflation and recession. It needs to drive non-incremental pricing actions and greater share of wallet with customers to offset recessionary shrinkage in addressable market. It needs to capture price and product mix gains compensate for rising operational costs.
Most distributors have a significant opportunity for improving baseline sales performance. When studying each of three critical performance metrics, SPARXiQ has measured significant variance between top and bottom quintile distribution sellers: ten margin points, 6x share of wallet, and 2x customer retention. This extreme variability shows big potential gains for systems and processes that enable consistent sales execution.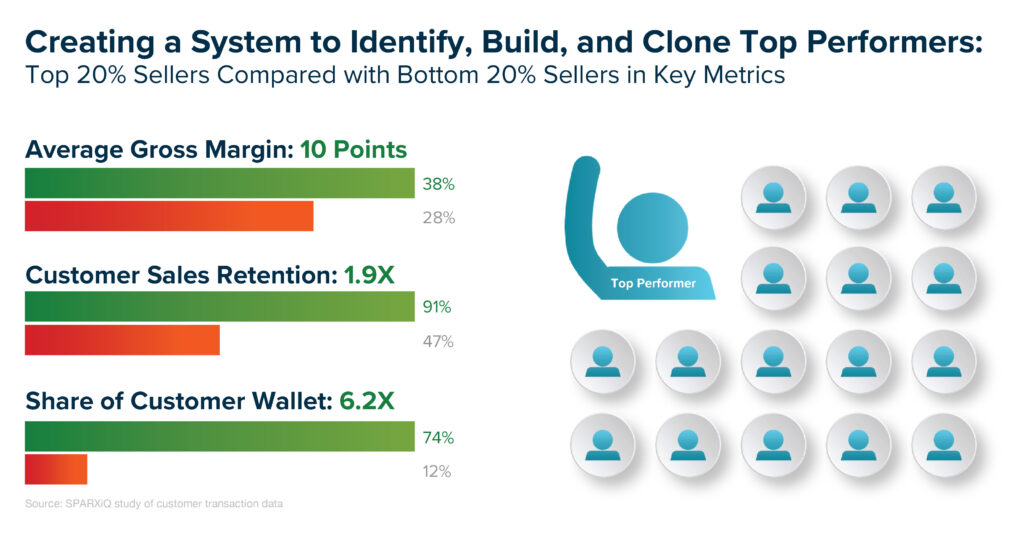 A Different Clock is Ticking…
Beyond the economic cycle, which is unknowable, lurks another hidden variable: the coming "demographic cliff" in both sellers and buyers. In the next three to five years, 25 to 50 percent or more of both buyers and sellers will retire and be replaced by new sellers and buyers — digital natives — whose experiences and expectations are radically different. The sales transformation is key to unlocking greater productivity and profitability during this transition.
To attract, hire, train, coach, manage and retain a new generation of sellers to serve a new generation of buyers, distributors must revamp not only their sales systems but also their sales roles. Let's not forget the imperative for knowledge transfer from retiring reps to onboarding reps. Who will capture and transfer that knowledge? How? The generational shift requires an urgent commitment to sales transformation: it's not just the buyers and sellers who are changing, it's the very nature of buying and selling that is changing.
Tinkering with Your Sales Force Isn't Enough
Many companies have tinkered with their sales approach, adding a new outbound-calling inside sales team or encouraging early retirements. But, in the larger scheme of things, most companies are still hiring, training, managing, compensating, and selling today the same way they did a decade or two ago. The true sales transformation journey has yet to start for these companies. Companies that continue to only tinker with sales will have the wrong sellers in the wrong jobs failing to serve evolving buyers.
Why is this change imperative? For one, the sales force is both valuable and costly. Everyone knows the sales team is the face of the company to its customers, and technical expertise and relationships are key to a company's value proposition, share of wallet, revenue growth and profitability. In addition, the typical distributor's all-in sales team cost (salary, commissions, benefits, support) is typically 15 to 20 percent of revenues — in an industry where the average EBITDA is four percent and even elite distributors attain only 8 to 12 percent EBITDA. In simple terms, the sales force typically costs 100 to 300 percent or more of operating profit!
Strangely, most distributors haven't perceived or acted upon these facts. For too many distributors, "Wild West Selling" remains the prevailing paradigm: "Leave 'Em Alone and Let 'Em Sell." Or "Our Managers Hire People Like Themselves; We Throw Car Keys and Keyboards at 'Em and Say Go Get 'Em Tiger." Not surprisingly, with such negligence sales productivity has stagnated, and even basic technologies like CRM and learning platforms suffer from poor adoption and abandonment.
Getting the sales model right drives differentiated customer value, accelerates organic revenue growth and profitability, and creates platform acquisition opportunities to drive inorganic growth. While doing this, companies must also focus on attracting, retaining, and optimizing the productivity of a new generation of sellers to serve the evolving modern buyer.
Applying Systems Thinking to Sales Transformation
Here's one way to think about the goals of a successful Sales Transformation: the buyer-centric sales system that begins with deep buyer acumen and buying process mapping to develop a formal sales process, in order to align sales coverage models, hiring, training, coaching, management, compensation, and sales technology, so as to align sellers in support of their buyers.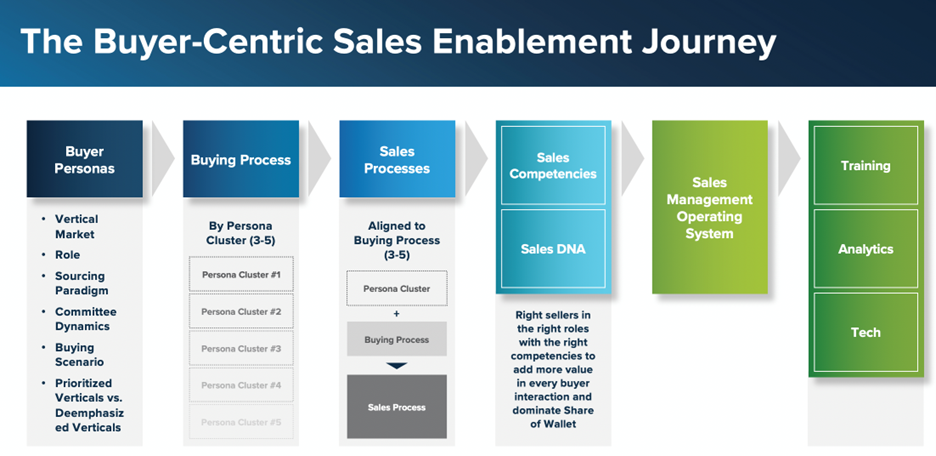 To succeed, this journey has to start with what evolving modern buyers need. Once we identify our buyers and their buying processes, we can proceed to build a sales process and system to support it. Without buyer research, our sales process will be seller-centric — what our needs are — and will likely fail. With a formalized, buyer-centric sales process, we can finally address each of the key levers in the sales transformation:
What are the various types, quantities and mix of sales resources (Outside Reps, Outbound Inside Reps, CSRs, Sales Support Experts) we need to serve the buyer?
What is our sales coverage model?
How do we redesign sales territories?
How many prospects or accounts should each seller cover?
What are our formalized processes for prospecting, opportunity management, and account management?
How will we hire, train, coach and manage a new generation of sellers?
What is the appropriate manager-to-seller ratio?
What sales analytics and technology are needed to support the sales process?
What is the appropriate compensation model for each sales role?
Beyond clearing up decades of unresolved questions about how to get more from the sales function, sales transformation promises significant business impact:
Productivity and Efficiency
Performance: Price, Share of Wallet, Customer Retention, Profitability
Consistent New Business
Talent Acquisition
Reach the Next Generation of Sellers and Buyers
Mastering the sales transformation journey takes time, likely two years or more, and the building blocks of sales excellence are complex. Nevertheless, a strong sales transformation can yield meaningful business impact quickly, within three to six months. Remember, too, that the demographic clock is ticking; the sooner you start, the sooner you will lead your markets. Every day, new buyers of a new generation with new expectations are entering the marketplace. Will your new sellers be prepared to serve the evolving buyers?
For more, be sure to read the white paper Buyer Centric Sales Transformation, published recently by SPARXiQ and NAW.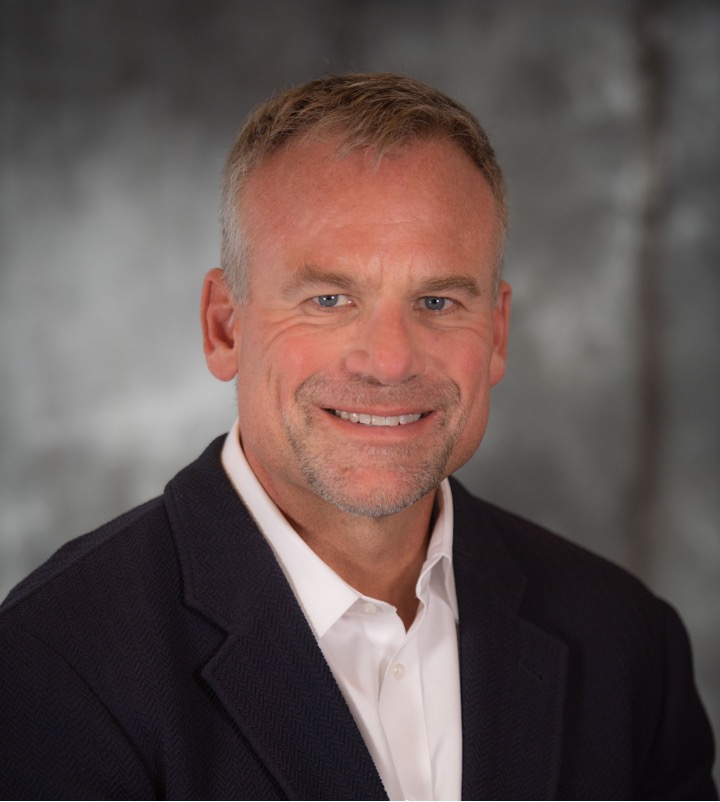 David S. Bauders, CEO SPARXiQ
As CEO of SPARXiQ, David Bauders has been committed to helping companies accelerate sales and profitability with the right analytics, tools and complementary skills training since he founded the company in 1993.
---