Many distributors struggle to manage their sales teams effectively. They oversimplify the sales management function, failing to recognize that every salesperson is unique and requires a customized approach.
Effective sales management demands a close evaluation of your sales force with the goal of segmenting salespeople by the characteristics of their performance, also known as sales force stratification. Segmenting your sales force in this way allows for optimal sales resource allocation to appropriate customer types. It also helps distributors devise optimal compensation plans that help align the sales force with company/management objectives.
A Best Practice Framework to Optimize Sales Management
The best practice framework for effective sales force management is a four-step process. The steps are 1) qualitative analysis, 2) quantitative analysis, 3) reports and results, and 4) strategies and applications. If you align all four steps with your company goals and objectives, this framework will improve salesforce effectiveness and efficiency at your organization.

Step 1: Qualitative Analysis
Qualitative analysis aims to understand what the salesperson can do (skill) and what they are inclined to do (willingness).
In our research, we observed that with any new salesperson, the first two years of employment represent the most significant opportunity to guide and modify their sales approach. The salesperson is more adaptable as they adjust to the new company environment and cultivate customer relationships.
Once outside the two-year time window, it takes longer and requires a tremendous effort to modify behavior. By this time, the salesperson has developed a selling process of their own and is less likely to move outside their established comfort zone.
Therefore, it is vital for companies to perform qualitative assessments prior to hiring and in the initial two years of employment. In a survey of more than 100 distributors, most of them lacked a formal system, but those who did reported using one or more of the following best practices:
Conduct skill/personality tests before each hire to determine the best fit for the salesperson and use the results to develop compensation plans.
Perform suitability tests using subject matter experts and Myers-Briggs testing before hiring a person to understand skills and capabilities.
Complete a personality profile assessment tool before hiring a new salesperson.
Employ the DISC personality profile assessment tool prior to hiring a salesperson.
Qualitative analysis is vital for all distributors to apply in any hiring decision. The testing process must be customized to the company culture and working environment so that companies can position themselves toward achieving their long-term goals and objectives.
Step 2: Quantitative Analysis
With sales force stratification, distributors can better measure the rate at which they'll reach their objectives for growth with the sales force mix they have. If their mix does not support the growth timeline they desire, it will be challenging to meet their objectives as they project them.
For instance, a distributor that aims to acquire new customers as a primary growth strategy needs salespeople who fall in the "hunter" category of sales force stratification. These are salespeople who prove skills in acquiring new accounts. If a distributor aims to expand on existing accounts, they need "farmers" who are adept at deepening customer relationships.
Beyond segmenting salespeople by performance, sales force stratification also classifies salespeople based on two dimensions: sales force effectiveness and sales force efficiency. The process measures whether the salesperson is efficient (achieving immediate/short-term goals) and whether they are effective (achieving long-term goals and a big picture for the company). The model assigns the sales force into one of the four different types: rainmakers, hunters, farmers, and defenders.
Rainmakers: Score well on both efficiency and effectiveness.
Hunters: Score well with effectiveness.
Farmers: Score well with efficiency.
Defenders: Score low on both efficiency and effectiveness.
Step 3: Reports and Results
The next step in the sales performance management process is presenting the stratification results to sales management for insights and action items. This will help sales managers determine the best way to develop sales force strategies and set growth/revenue targets.
The results of a plumbing distributor's sales team in their top regions (56 salespeople) are shown below.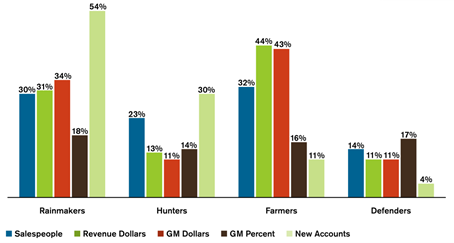 The distributor performed sales force stratification in three consecutive years and noticed that a particular salesperson ended up in the defender category each time. On further study, the salesperson's performance, skill, and willingness to do things demonstrated that he was not comfortable with the outside sales function assigned to him. The salesperson was then moved and became the top inside salesperson in the organization.
Step 4: Strategies and Application
The final step in the sales force performance management model is developing and executing strategies based on the stratification results. Here are key strategies for distributors to consider once they have salesforce stratification in place:
Reassign. This strategy involves moving a salesperson from one function to another. For example, it would mean moving them from outside sales to inside sales, counter sales, or technical sales.
Redesign. This strategy involves moving a salesperson from one quadrant to another—moving a salesperson from defender to hunter, defender to farmer, and so on.
Sales Force Deployment. Deploy your salesforce using salesforce stratification and customer stratification (a key best practice to drive profitable growth). Rainmakers are good at working with all four customer types—core, opportunistic, marginal, and service drain. Defenders can work with core customers and service drain customers. Depending on company goals, current sales force mix, and customer mix, the deployment strategy can vary.
CRM Utilization. Stratification helps distributors develop tools to support company growth. Many distributors attempt to use CRM software to make the entire sales force more successful. Customizing CRM information by groups will have a positive effect on these salespeople and help them better negotiate and develop the value proposition. For instance, many farmers resist CRM as an intrusion into their close customer relationships. And hunters bring in many new accounts but may establish less profitable relationships in the process. A customized approach helps overcome these concerns.
Sales Training. Distributors cannot offer all services to all customers and expect to be successful and competitive. The same applies to sales training. All salespeople need training, but not all require the same amount, level, and frequency. Salesforce stratification helps distributors understand which training options will best fit each type of salesperson for greater effectiveness.
---